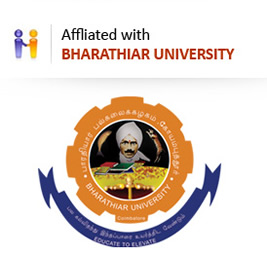 Bharathiar University is a postgraduate university in Coimbatore, Tamil Nadu. Named after the Tamil poet Subramania Bharathiar, the university was established in February 1982 and was recognized by the University Grants Commission (UGC) in 1985.
The university is situated in the foothills of Marudamalai and has jurisdiction over the districts of Coimbatore, Erode and the Nilgiris. It has 119 affiliated institutions (80 Arts and Science Colleges, 29 Colleges of Education, 8 Management Institutions, 1 Air Force Administration College and 1 College of Physical Education).
The motto of Bharathiar University is Educate to Elevate.
Generally the stature of a post-graduate University is tall among educational institutions. The one in the name of the great poet and visionary for Independent India should stand tallest and vibrant to impart the same high standards among its affiliated colleges. It should lead India into the future with unique capabilities from high-quality scientific pursuit for societal good.
My focus will be to realize this tremendous potential by creating enabling ecosystem for highly interdisciplinary, research-oriented and commercially potential outputs for public good. I am confident that my seminal contributions to pioneering technical education in emerging areas, scientific research contributions to millennium goal of reducing the burden of infectious diseases through technology, creation of ecosystem for translational research and commercialization experience, implementation of Vision 2023 and other mega national/international schemes across affiliated government and private engineering colleges with my previous experience as officiating Vice Chancellor of Anna University will fulfill my vision.
Vision and mission
 To make the PG University an Institute of Eminence and drive into respectable Asian and world ranking through advanced interdisciplinary learning and translational research for the country's science and technology development. At the level of PG education, I have seen and always maintained that best researcher is the best teacher. Therefore my mission will be to make use of my rich experience in the premier university, my contact with large network of diverse expertise nationally and internationally and knowledge of resource availability to provide a conducive research and development oriented ecosystem, curriculum structure, integration of external expertise, industrial participation and international appreciation.
Multi pronged approach
 National and global accreditations have become the norm for the University and its affiliated colleges. Since it is a totally collective and cooperative output, sensitization of all faculty and support staff on the world rankings and other accreditation parameters and preparing the University on those lines for excellence will be my primary goal in creating the ecosystem. It includes employer reputation (based on a survey on graduate employers), faculty/student ratio, citations per faculty – a measure of research impact, international faculty ratio – a measure of the academic staff diversity and imparting of the latest knowledge, international student ratio – a measure of global recognition. I request for a sincere collaboration from all the sectors of the University and its affiliated colleges to fulfill this purpose.
Keeping the curriculum for the University and its affiliated colleges unique, up-to-date and futuristic by periodic revision to enable students to have global edge will be my primary aim. It would enhance the contents of future trends, unique interdisciplinary subjects combining science, technology and/or humanities, and research in advanced and cutting edge areas of global demand and intensive practical training with integration of external experts and industries/business enterprises. Motivation for translational research on current issues and futuristic developments, conducting competitive international events, creation of common sophisticated Instrument facilities, technology enabling facilities, autonomous advanced Centres of Excellence and Hubs in the University and affiliated colleges will provide the required ecosystem and infrastructure for cutting edge research and new knowledge.
There are noteworthy long-term programmes with handsome funding from agencies like DRDO by interdisciplinary teams addressing national and global issues. Such efforts will be multiplied in my tenure with dedication, hard work and networking with expertise available with several educational institutions to make our great potential a national asset. Coimbatore and the region in general are well-known for their industrial and business presence globally. This has to be taken advantage of immediately in making the students job-oriented and skilled for industries/businesses and research outputs mutually beneficial for growth.
Merit, competence, innovation, due diligence, discipline etc with the sole purpose of taking the University and its affiliated colleges to new heights will be major criteria for accomplishing things.
My lifetime desire
Stems from my humble beginning of being born to poor and uneducated parents in a remote village. Education enriched in research has provided me with excellent opportunities to rise to this level. Therefore I am committed to providing such an opportunity in making every such student to rise higher, prepare to realize his or her dreams and bring pride to their country and people.
With warm regards,
Prof.Dr.P.Kaliraj
Vice-Chancellor